Hello to you all – I'm back from convention in Canberra, and full of the joys of an amazing time away with other stampers, friends, and even a sister!   We had a blast, and were very spoilt once again this year.    Here is just SOME of the amazing things that I walked away with.  Some of the stamp sets were earnt, some won, and some were just gifts from Stampin' Up!, because they really value & appreciate everything we do.  How cool!!!  
Some of the observant amongst you may notice the small expensive looking box at the bottom of this picture.   Well – that was a HUGE surprise for me.  You see, Stampin' Up! decided to reward even further the top three demonstrators in three categories with a gorgeous…..
TIFFANY Pendant (or earrings, or bracelet).   WOWZA!!   I was stunned – totally shocked, when my name was called out for one of the recipients of this gorgeous gift in the Leadership category.  How very generous!   Of course, without a team to lead, I would not be able to earn such a reward, so to my wonderful team of women who work hard, play hard & shop even harder… THANK YOU.    I can't express the feelings I have after our trip away, and certainly wish that my entire team could have come to experience this fabulous convention – maybe next year!  
If you would like to join my team, then I've got such a wonderful opportunity for you.   How does joining Stampin' Up! for just $175.00 sound?   This will get you a scrapbooking starter kit, and the opportunity to excel in a business that works around YOU.  Or if you prefer, you may wish to purchase the starter kit for the minimum 20% discount and just order for yourself and a couple of friends.  Whichever way you want to join – I would be delighted to welcome you to our team.  We need all kinds of demonstrators, and you can be sure that I will give you the support to achieve your goals, whatever they may be.
Picture the Possibilities!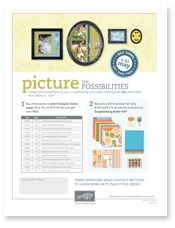 There has never been a better time to join Stampin' Up!  In celebration of National Scrapbooking Month, join Stampin' Up! as a demonstrator for only $175 with our limited-time Scrapbooking Starter Kit. The Scrapbooking Starter Kit contains the following:

Schoolbook Serif Alphabet stamp set*         RRP $91.95
Simply Scrappin' Petal Party                           RRP $43.95
Earth Elements 12x12 textured card stock   RRP $25.95
Pumpkin Pie Classic Stampin' Pad                 RRP $13.95 
Craft & Rubber Scissors                                   RRP $44.95
*Substitute for any stamp set up to $91.95 value.

The Scrapbooking Starter Kit also contains all the business supplies contained in the standard
Starter Kit:
Getting Started DVD
Getting Started Guide
Guest Invitation Postcard (100)
Idea Book & Catalogue (8)
To My Hostess Envelope (10)
Project Sample Sheet
Recruit Brochures (20)
Hostess Brochure (20)
Hostess Benefits Form (10)
Customer Order Form (50)
FREE DESIGNER PAPER
BUT… if you are not convinced to purchase the Scrapbooking Starter Kit, maybe you wish to take advantage of the other special Stampin' Up! has for May – Purchase three packs of DSP and get one for FREE!   WOW – That's a $19.95 discount. 
You can choose from the following designs:
Item #           Description
112042          Urban Garden
112470          Haiku
113976          Pink Flamingo
112468          Sweet Always
113992          Tea Party
113975          Raspberry Tart
113966          Good Morning Sunshine
112469          Holiday Treasures
112041          Bella Rose
113974          Bella Bleu
113978          Urban Oasis
112461          Washington Apple
112039          Windsor Knot
113980          Candy Lane

There are no limits to how many packs you can earn, for every 3 packs you purchase, you will get 1 FREE!
Order your Designer Series Paper NOW by phone or email!
Offer valid 1-31 May 2009
I've got such a lot more to share with you, including my classes for this month and next, and my projects that I presented at convention (shaking in my chair, in front of 400ish women!) but I'd better fly and get some dinner happening before I get too carried away though!
Thanks for looking!
Michelle